by Susan Bandy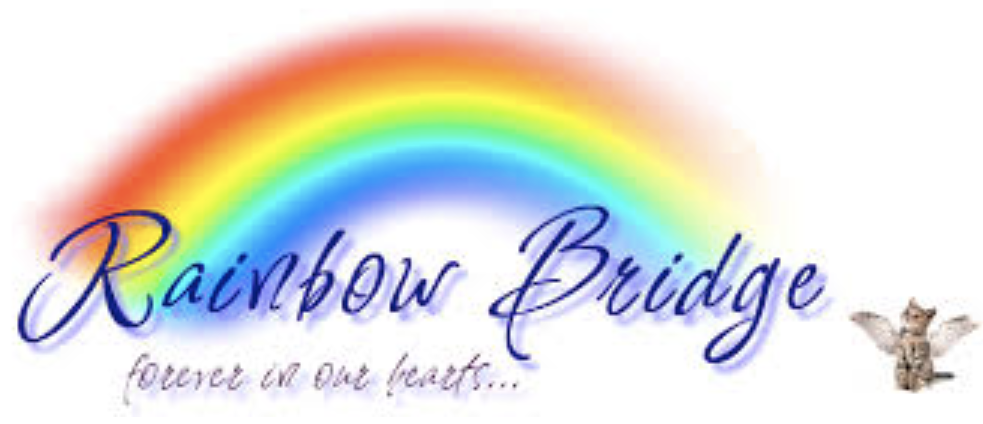 We recently had to say goodbye to three beloved members of The Lily Pond family. These transitions are never easy… in fact they are devastating. One of the most difficult aspects of animal rescue is grieving the loss of their passing – a challenge we face regularly given our focus on seniors, special needs, and hospice care. We also acknowledge the privilege of supporting an animal as they cross over into the next phase of their soul's journey. These moments are sacred and full of grace. We find comfort in the special memories we shared with our beloved four-legged friends and the fact that they were living their best life with us… safe, well fed and cared for, and loved.
Always loved.
---
Sedley
SEDLEY was a gorgeous grey with eyes of speckled green and whiskers for days. His tail was an impressive cloud of floof, swishing high in the air when he padded across the room. His front fangs were visible, giving the adorable impression of an overbite. Sedley arrived at the sanctuary in 2020 with his best friend Buttercup after their owner succumbed to cancer. Quiet and thoughtful, he was quick to make friends. And oh how he loved to be pet and cuddled, drooling waterfalls of joy when scratched under his chin.
Sedley had just turned twelve when he arrived, already in the early stages of kidney disease. We fed him a special diet, herbal supplements and administered sub-q fluids daily. A true gentleman, he never complained. This careful attention kept him comfortable for another three years. Years that we treasure, with our evening tradition of treats and snuggles. This was Sedley's area of expertise. He could be found on any given day nestled closely with Buttercup. The two always remained strongly bonded. Almost opposite in personality, it was Buttercup who claimed the limelight with his gregarious personality and amusing quacking meow. Buttercup is loud and curious, demanding attention with his silly antics and proclivity for hanging upside down. Sedley, in contrast, was gentle and retiring, but confident enough to quietly engage with people and other cats. Buttercup wants to be parked on my lap when sitting on the couch. Sedley preferred to sit next to me, purring and drooling. He might walk away to investigate a chipmunk outside
Sedley with his best friend Buttercup the window then slowly amble back to my side. Speaking of windows, Sedley was an avid bird watcher, chattering softly when they landed within view. Simply put, Sedley exuded the energy of quiet contentment.
It was after Thanksgiving that Sedley's health began to decline. We made a vet appointment and were heartbroken to learn that his kidneys were shutting down. Time flew so fast. I was with him in his final hours, cradled next to me with Buttercup also by his side when he crossed the Rainbow Bridge the night of December 8th. An old and wise soul, Sedley made the world a better place. He is deeply missed.
Thank you Sedley for being such a special friend and part of our family.
Your gentle loving presence was a comfort to us all.
May you rest in peace. ❤️🌈💫
⭐️⭐️⭐️⭐️⭐️⭐️⭐️⭐️⭐️⭐️⭐️⭐️⭐️⭐️⭐️⭐️⭐️⭐️⭐️⭐️⭐️⭐️⭐️⭐️⭐️
Zoom
ZOOM was a lovely registered bay quarter horse who arrived with her best pal Moon in 2020. Gentle and sweet, we affectionately referred to her as Zoomie Girl. She traveled a long road prior to her home here at the sanctuary.
Born as a PMU foal on a ranch in North Dakota that serves the pharmaceutical industry in the production of the drug Premarin, she was considered a "by-product" of the drug manufacturing process. She was fortunate not to be shipped to auction due to the work of New York Horse Rescue, a nonprofit organization that seeks to place PMU foals in homes. Working with NYHR, Zoom's previous owner agreed to adopt her sight unseen. The North Dakota ranch branded little baby Zoom, glued a number to her forehead, chased her onto a truck and shipped her East. This was her only interaction with humans before arriving at her adoptive home. Zoom's person worked to rehabilitate and train the young filly, with much success. Moon and Zoom spent many happy years together with their previous owner until a relocation to a smaller property necessitated finding them a new place to live. We agreed to provide them a forever home where they are not required to ride and will be able to stay together for the rest of their lives.
It was March of 2022 when we observed that Zoom was losing weight. We increased both amount and caloric content of her food, without noticeable improvement. Puzzled, we call the veterinarian who was not able to identify the cause of her weight loss. And then she developed digestive issues and abnormal manure. We transferred her to a stall for closer observation, following the veterinarian's suggested protocols. And then she became dangerously dehydrated. We rushed her to Rhinebeck Equine Clinic, where a battery of tests and an intestinal biopsy were performed. We received the diagnosis in stunned silence: intestinal cancer. Terminal. We discussed options with her medical team. They had been able to stabilize her and were willing to let her return home with a special diet and medications to keep her comfortable for whatever time she had remaining.
Zoom was delighted to rejoin her herd, prancing around the paddock with pep in her step. There were good days and bad days, but we were able to keep her comfortable enough to enjoy a lovely summer in the sunshine. We worried about how she would survive another winter and hoped for the best. But on the first cold day of Autumn, Zoom went down in her stall. The medication wasn't enough to control her pain or keep her digestive track running smoothly. We saw the look in her eyes. Our hearts broke. We made the call to the veterinarian and our Zoomie Girl was peacefully transitioned surrounded by her horse and human friends. She is deeply missed, but we are so grateful for the extra months of a sunny and peaceful summer with her.
Thank you Zoomie Girl for joining our family. Your sweet friendship was a joy.
May you run free with the Horse Spirit Herd in the sky. ❤️🌈💫
⭐️⭐️⭐️⭐️⭐️⭐️⭐️⭐️⭐️⭐️⭐️⭐️⭐️⭐️⭐️⭐️⭐️⭐️⭐️⭐️⭐️⭐️⭐️⭐️⭐️
Kabuki
KABUKI arrived with Patches on a cold December day in 2021. They had each been rescued from a feral colony, living with their rescuer. When she was diagnosed with cancer, she contacted The Lily Pond, as neither were strong adoption candidates due to their feral nature and special needs.
An older fellow with a perpetual grumpy expression, Kabuki was not interested in people and displayed an impressive ability to hiss and scratch. But he did enjoy the company of other cats. His frowny expression was understandable given his history. Born into a feral colony, he was plagued with medical issues including FIV, an eye infection and a wounded paw. His rescuer got him to the veterinarian, who gave him one month to live. Kabuki proved him wrong, going strong for another three years! Kabuki loved to snuggle with Patches and when he arrived at The Lily Pond, he befriended Gertie, another FIV+ cat. They quickly became buddies, snuggling together every night at bedtime.
One night in late Fall, he ate his dinner as usual and settled comfortably in his bed with Gertie at his side. The next morning, I came in to feed breakfast and found Kabuki deceased. He looked so peaceful, still curled up in his bed exactly as I had left him the night before. I was stunned, as there had not been any sign of a problem. Perhaps the angels had called his soul and he quietly transitioned out of his body in the comfort of a peaceful slumber.
Thank you Kabuki for being part of our family and making so many friends.
May you rest in peace. ❤️🌈💫