by Susan Bandy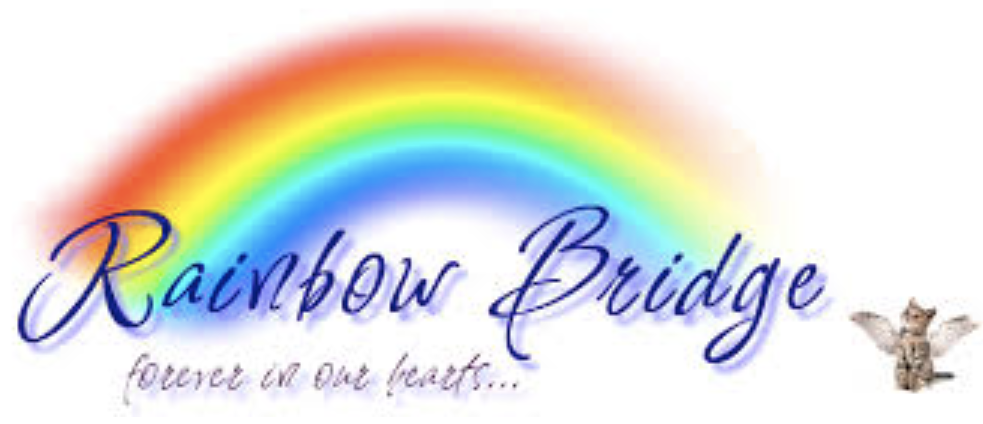 We recently had to say goodbye to two cherished members of The Lily Pond family. These transitions are never easy… in fact they are devastating. One of the most difficult aspects of animal rescue is grieving the loss of their passing – a challenge we face regularly given our focus on seniors, special needs, and hospice care. We also acknowledge the privilege of supporting an animal as they cross over into the next phase of their soul's journey. These moments are sacred and full of grace. We find comfort in the special memories we shared with our beloved four-legged friends and the fact that they were living their best life with us… safe, well fed and cared for, and loved.
Always loved.
---
HUBBLE was the Mayor of the Cat House, having appointed himself the official greeter and King of the Couch. A senior cat with special needs, Hubble-Bubble was a wall-eyed, toothless Flame Point Siamese who charmed everyone he met with his stunning beauty and adorable lamb-like meows.
Hubble was one of the first cats to arrive at the sanctuary in November 2016. Originally rescued by Best Friends in Utah from a terrible hoarding situation, Hubble did not attract adopters due to his Irritable Bowel Syndrome, which made it difficult for him to use the litter box consistently. Or perhaps he was simply disinclined to travel across the room to the nearest litter box. I don't know and I don't care. I tumbled madly in love the moment I glimpsed the picture of this floofy feline smiling slightly for the camera with blue eyes gazing in opposite directions. At our initial meeting, Hubble refused to be pet or picked up. But he kept his eyes on me and that was enough.
He bravely made the flight to New York and without missing a beat, set about exploring the cat house and making new friends. Not one to be held — no manhandling, please — Hubble nonetheless was a confirmed lap cat. On the day of his arrival, I sat down on the couch and this fearless feline hopped up and settled comfortably in my lap, purring contently. This would be a nightly routine that would continue for the next four years.
Hubble could not be bothered to play with toys or run around with the kittens. Catnip held no allure. The key to his happiness was a good meal. Hubble was culinary gourmand who put top priority on enjoying food and treats. The clink of a cat dish on the counter or the scrape of a can being opened was enough to bring Hubble instantly to my side, plaintively bleating his baby lamb-like meows to encourage swifter service. He was allergic to fish despite his fondness for salmon pate and tuna medley. But the culinary highlight of his day was the chicken flavored Temptations cat treats that we dole out every night as a bedtime snack. Oh the joy from a handful of flavored brown nuggets!

We had been trying different remedies for Hubble's IBS and had also successfully treated several bouts of pancreatitis over the years. But last December, his health began to deteriorate. He was growing thinner and our vet confirmed kidney disease. We started him on medication and daily fluids, preparing special meals to encourage him to eat. In April, our friend began to fail. In Hubble's last days, he simply wanted to be held. I cleared my schedule so that I could sit and cuddle with him, to which he responded with purrs. The morning of Easter Sunday, Hubble passed peacefully in my arms. Later that day, I noticed his birthdate was April 16, 2006. Sensing a moment of synchronicity, I researched the date of Easter for the year 2006. It was April 16th. Our blessed Hubble was born on Easter Sunday and crossed the Rainbow Bridge on Easter Sunday.
Hubble had been a popular figure on social media. He became good friends with a stunning black cat named Francis on Instagram. We had fun posting "parties" with catnip, tunatinis, and general silliness. Francis and his family were a source of great support during those final days, checking in regularly and sending prayers. Upon learning that Hubble had received his angel wings, they sent a beautiful bouquet of purple and white flowers to honor his life. I am so grateful for their love, support, and friendship and I know Hubble is too.
Thank you precious Hubble for putting your trust in us and being a part of our family. You brought so much joy. Rest in Peace and Serenity, my dear friend. ❤️????????
KATARINA was the embodiment of beauty and grace. A stunning seal-point Siamese with eyes of sapphire, Katarina was a gentle soul who used her healing gifts to comfort sick animals here at the sanctuary.
Katarina had been a family pet, but when they made the unfortunate decision to declaw her, she stopped using the litter box because the litter irritated her tender paws. She would walk with a limp the rest of her life. The owner's response was to get rid of her, surrendering her to Best Friends in Utah. Katarina did not do well in the communal setting at Best Friends, as she was naturally shy and felt disempowered without her front claws. She simply stayed in her cat bed and soiled it regularly because she was too frightened to navigate the room full of cats and did not want contact with the litter. This did not help her prospects for adoption.
When I met her, she was hidden in a cat cubby but responded with such warmth when I reached out to pet her. She started purring and I knew that I had found a friend. Katarina arrived at The Lily Pond with Theo and I placed them both in the less populated special needs cat room, as I knew that too many cats would upset her. She adapted quickly to her new home and enjoyed sitting by the window, gazing out at the pond. She loved to sit on my lap, taking advantage of every opportunity. To address her litter box issues, I placed a puppy training pad in one of the boxes, which she immediately began to use since it didn't bother her paws. Problem solved.
Katarina became good friends with Theo and the two would cuddle on the sofa. She would often groom Theo, who could not be bothered to groom himself and benefitted greatly from her motherly attentions. This would become a pattern as The Lily Pond continued to accept terminally ill cats in need of hospice care. When Halo arrived for hospice care due to kidney disease, Katarina could often be found comforting her by sitting next to her with a paw draped over her shoulders. We took in a senior stray named Lou who was suffering from liver disease. When he passed peacefully here at the sanctuary, Katarina was by his side resting a paw gently across his back during his transition across the Rainbow Bridge. When Hubble had bad days due to kidney disease, Katarina would lay next to him, offering the comfort of a friend. The Lily Pond's mission statement is "people, animals, and nature in healing partnership" and Katarina put this philosophy into daily action with her compassionate care of the other animals.
In January, Katarina was diagnosed with diabetes, which we were able to keep under control with daily insulin. A month later, another devastating diagnosis was delivered: kidney disease. We began all the recommended treatments and daily fluids. Happily, she celebrated her 18th birthday on May 15, 2020. We were thrilled that she reached this milestone but soon realized that she was preparing her approach to the Rainbow Bridge. Like Hubble, she just wanted to be held. We cuddled her, singing songs to bring comfort. Katarina passed peacefully in my arms on May 24, 2020. She lived a long, full life. Our sweet angel truly merited her wings.
What a blessing you are, Katarina. Your beauty, grace, and kindness touched us all. Thank you for your gift of compassion. May you rest in blessed peace. ❤️????????