It was a mild autumn day when we got a call from the Standardbred Retirement Foundation (SRF), a non-profit organization that raises funds to save horses from shipping to slaughter by bailing them from kill pens and rehoming them. We were notified because a 17-year-old ex-race horse named Super Tuesday had landed in a kill pen in New York.
This was not just any race horse. He was a champion with 137 starts: 22 wins; 14 seconds and placing third 23 times, generating $67,502 in earnings. Not only could this horse compete, he has a steller pedigree with Runningtobe Aqueen as his dam and Presidential Ball as his sire. Presidential Ball is a Harness Racing Hall of Fame champion who earned over $3 million in winnings during his career. SRF was working to raise bail for Super Tuesday and asked if we could provide him a home. The Lily Pond would be responsible for the cost of his transport, quarantine, vetting, and lifetime care. We agreed.
Super Tuesday would be quarantined at Vindonah Horse Shelter, run by expert horsewoman Liz Ingersoll. We began preparing for his arrival, only to discover that SRF had not been able to raise any bail funds. Zero. We were piloting a flight into the heart of darkness to save a life, stuck in the runway revving our engines. The clock was ticking.
It was Monday October 10th, which happened to be the date of an anniversary party hosted by Cooper's Daughter Spirits, a wonderful local distillery owned and run by Sophie Newsome, Rory Tice and Stewart Newsome, the cooper (coopersdaughter.com). Every year, they select a charity to support with the proceeds from the party. This year, The Lily Pond was honored with an invitation to set up a booth at the cocktail garden during the festivities. Susan created a poster to raise awareness about Super Tuesday among the patrons of the distillery. The party was hopping, with families and their dogs enjoying a lovely evening in the garden. Many stopped at our table and generously donated to the animals. Even young children showed an interest and would run back to their parents requesting a few dollars which they proudly dropped into our donation jar.
The event was a success, but Susan did not yet know how much had been raised between the party and the donation jar. And then Candice and Noy Korish walked up to our table. After studying the poster, Candice stated, "We want to save this horse. How much do you need?" Susan explained the costs and listened in grateful dismay when Candice responded, "Done. A check is on the way." Boom. Cleared for takeoff. All systems go. While patrons were chatting and laughing over delicious cocktails, Susan texted Liz and SRF: "We just raised bail for Super Tuesday. Pull him." They immediately went to work contacting the kill buyer to arrange for Tuesday's release.That night, a life was saved. And that is an awesome thing. The next day, appropriately a Tuesday, our champion race horse was transported out of the kill pen to the safety of Vindonah Horse Shelter for mandatory quarantine. Liz went to work rehabilitating our skinny, bedraggled boy, who showed himself to be a gentleman with excellent manners.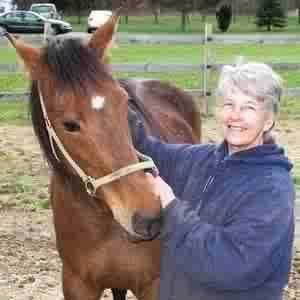 But the story doesn't end there. Enter Hogues Best Sunday, a 22-year-old un-raced Standardbred pulled from the kill pen three months earlier. He was in such terrible condition when transported from the pen to Vindonah Horse Shelter that he actually fell out of the trailer upon arrival. He had eaten a plastic bag in the pen and would have died of colic that night had Liz not immediately summoned the vet.
Liz nursed Hogue back to health physically, but the emotional trauma of his ordeal was heartbreakingly apparent. He had been languishing at Vindonah for three months with no prospects for adoption. Hoof issues made him unrideable and Liz was concerned about his future. She contacted Susan about potentially adopting Hogue along with Super Tuesday, believing that a sanctuary setting with no performance demands would be the best outcome for this senior horse. Because the Cooper's Daughter Spirits anniversary fundraiser had been such a success, funds were available and we agreed to give this special guy a home.
We were fortunate to find Erin Brodeur, who volunteered to transport Tuesday and Hogue to The Lily Pond at cost as her gift to the horses. A welcome home celebration and champagne toast was planned with a small group of supporters for Tuesday November 15th. When Erin arrived for the pickup at Vindonah, Hogue refused to load into the trailer. He was terrified of being taken back to the hellish kill pen. So Tuesday was loaded first and Hogue was willing to follow him. A storm was brewing, compromising road conditions. Erin safely navigated the 4-hour freedom ride, staying just ahead of the squalling snow and gusting winds. Super Tuesday and Hogue stepped off the trailer to a chorus of welcoming neighs and stomps from our herd. True to the sweet personality of the Standardbred, they made friends quickly.
It was evident that they were used to sitting low in the herd hierarchy, letting Max and Trooper boss them around and gulp down their food. So we moved them into their own stalls and paddock where they could eat in peace. Our first goal with Super Tuesday was to get his weight up. Hogue was more complicated, stuck in a depression and in need of emotional healing. We nicknamed him Hogie Bear, offered reassurance and showered him with affection.
The other horses also made gestures of support. Just as Lou de Fontaine helped Thunder gain confidence when he arrived, Thunder in turn befriended Hogue, often nuzzling and playing with him over the fence line. We can almost hear Thunder whispering in Hogue's ear, "It's going to be okay friend. It's going to be okay."
We would like to express our gratitude to a community that came together to save a life. Special thanks to Cooper's Daughter Spirits and Supreme Soft Serve for fundraising on behalf of The Lily Pond; to Candice and Noy Korish and The Michalwicz Family Charitable Fund for their generous grant that purchased Super Tuesday's freedom; and to Liz Ingersoll and Erin Brodeur, who cared for our boys and brought them safely home.